 When we're old and grey and sitting in our rocking chairs, we want to be able to look back and be really proud of what we helped to create.
We think the best way of achieving this is by living the values that are closest to our hearts.

In how we treat each other and how we speak to everyone – colleagues, children, parents, suppliers, etc. It also means being ourselves, and the best version of it.

Little Green House is small and incredibly dynamic. We aren't afraid to do things differently or to come up with new ideas.

We keep our promises, are mindful of our impact on our community and our environment, and always try to leave things a little bit better than we found them.
VACANCIES
If you are full of energy and great ideas, if you are a born optimist with experience in early education and childcare, if you want to do something meaningful every day, then you should join us!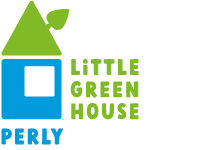 No positions available at this time?
Never mind. We're always looking forward to meeting nice people. Send your application to perly@littlegreenhouse.ch